MANUFACTURING DEVELOPMENT
Aero Gear practices Lean Manufacturing and Continuous Improvement to further optimize efficiency throughout the design and manufacturing processes. We are recognized as a highly responsive, high tech, lean leader.
Our Continuous Improvement culture is based on open and direct communication in an environment of mutual trust and respect. Our organization was an early adopter of lean principles, using Shingijutsu concepts and consultation. We have organized our entire factory to optimize flow and continue to routinely hold Kaizen workshops to improve our flow and competitiveness.
Our flow concept is based on providing the best quality, shortest lead time and reasonable cost through shortening the production flow by eliminating waste. We pride ourselves on making data-driven decisions and rigorously applying the Plan-Do-Check-Act philosophy.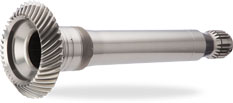 Our people are the engine that drives aero gear's continuous pursuit of excellence.
TODAY, TOMORROW, AND IN THE FUTURE.