Aerospace Gearbox Supplier and Integrator
As an assembler and integrator in the aerospace gearbox industry we pride ourselves on our manufacture and assembly of production gearboxes. Complete gearbox assemblies provide the essentials to fixed wing aircraft, supplying air, fuel and electronics to the aircraft, as well as providing lift capability for helicopters, through the power transmissions and tail rotors. A wide variety of Aero Gear assemblies are on commercial and military aircraft across the world.
Aerospace gearboxes are the "brains" of the power system and demand the highest quality precision engineering and manufacturing. At Aero Gear we have repeatedly proven ourselves as a leading manufacturer of complex gearbox assemblies for the global aerospace market.
As we engineer and manufacture our gear systems in house, using specialists for each separate function, we are totally confident in our product quality and reliability. The growth of our business suggests our customers feel the same. We think that the combination of this process, along with our individual gear support capability and our shorter lead times, offers a compelling reason to partner with us. Contact us today and let our experience in the aerospace industry serve as your aerospace gearbox manufacturer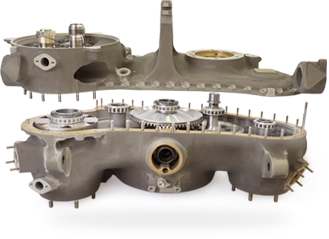 Our people are the engine that drives aero gear's continuous pursuit of excellence.
TODAY, TOMORROW, AND IN THE FUTURE.